Philippa Busuttil, who is 15 years old, is the first Maltese gymnast to secure a medal at the Comegym Junior Mediterranean Artistic Gymnastics Championships. This prestigious event was held in Istanbul, Türkiye, between the 20th and 22nd October 2023 and featured gymnasts from the Junior National teams of Italy, Türkiye, Egypt, Algeria, Cyprus, and Jordan.
The highlight of her performance came on the Balance Beam, where Philippa delivered a solid routine, resulting in a silver medal placement with less than 0.4 points separating her from the top position.
The trophy for the October 2023 Atlas Youth Athlete of the Month together with a sports apparel voucher were presented to Philippa Busuttil by Robert Micallef, Chief Commercial Officer. The Malta Sports Journalists Association was represented by the Administrator Stephen Azzopardi.
This award is a joint initiative between the Malta Sports Journalists Association and Atlas Insurance. The adjudicating panel of this award takes note of all the youth athletes' achievements during the month under review and at the same time it invites local sport associations and federations to send in their nominations for consideration if they feel that any of their under-21 athletes have distinguished themselves during that month.
Nominations for this award may be sent via email to info@maltasportsjournalists.com. The rules and regulations of the award can be viewed on the website www.maltasportsjournalists.com.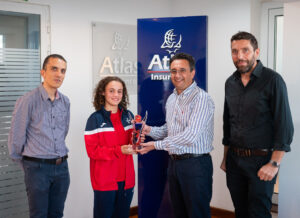 Photo caption: From left: Stephen Azzopardi (Malta Sports Journalists Association), Philippa Busuttil, Robert Micallef (Atlas Insurance) & Robert Magro (Malta Gymnastics Federation).