Jack Mizzi, who is 17 years old, set a new Maltese chess record when he won all nine games in the Malta Blitz Chess Championship on the 17th of September, joining the elite group of players who won a Blitz Championship with perfect scores.
The Malta Blitz Championship is an annual tournament organised by the Malta Chess Federation, which saw the participation of 32 players from different countries including Germany, Türkiye, Serbia, and China.
Unlike the traditional chess, where games usually  take more than three hours, in Blitz players are each allotted three minutes with two-second increments to make all their moves and each game is expected to last less than 10 minutes.
Mizzi has been playing chess since the age of ten. At 13, he was the youngest person to win the Malta preliminaries. Last year Mizzi became Malta's youngest-ever Candidate Master, which is a title awarded by the International Chess Federation to players whose performance sets them on the track to become chess masters.
The trophy for the September 2023 Atlas Youth Athlete of the Month together with a sports apparel voucher were presented to Jack Mizzi by Robert Micallef, Chief Commercial Officer and David Cassar Business Development & Marketing Manager of Atlas Insurance . The Malta Sports Journalists Association was represented by President Sandro Micallef and General Secretary Lorraine Cunningham.
This award is a joint initiative between the Malta Sports Journalists Association and Atlas Insurance. The adjudicating panel of this award takes note of all the youth athletes' achievements during the month under review and at the same time it invites local sport associations and federations to send in their nominations for consideration if they feel that any of their under-21 athletes have distinguished themselves during that month.
Nominations for this award may be sent via email to info@maltasportsjournalists.com. The rules and regulations of the award can be viewed on the website www.maltasportsjournalists.com.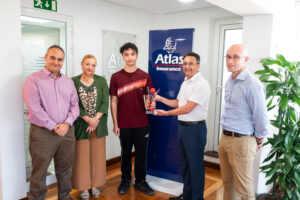 Photo caption: From left: Sandro Micallef & Lorraine Cunningham (MSJA), Jack Mizzi, Robert Micallef & David Cassar (Atlas Insurance).