The Malta Sports Journalists Association (MSJA) has announced that the tenth TGS Malta Fair Play Award, has been awarded to veteran triathlete Danica Bonello Spiteri. This is the second award for the year 2023, covering the April–June-period.
This award has been recently revamped by the MSJA in collaboration with the Malta Fair Play Movement and Together Gaming Solutions.
The award is aimed at sporting individuals or teams that would have distinguished themselves with an altruistic gesture of fair play during official and/or non-official competitions.
During the sprint triathlon national championship race, held on Sunday 11th June 2023 in Salina (limits of Naxxar and St. Paul's Bay), Maya Schembri Rodgers came out of the water first, followed by Danica Bonello Spiteri with the latter trying to chase Schembri Rodgers on the bike section with the aim to start closing the gap.
As Schembri Rogers was in sight of Bonello Spiteri, the former accidentally fell off her bike with Bonello Spiteri reaching her within seconds.
An altruistic and fair play gesture saw Bonello Spiteri slowing down to assist and eventually encouraging Maya Schembri Rodgers to get on the bike and pedal to the finish. Eventually Bonello Spiteri ended the race victorious whilst Schembri Rodgers took the second place in the Female overall.
For Danica Bonello Spiteri, it came almost naturally to stop and offer assistance to such an upcoming and promising triathlete like Maya Schembri Rodgers.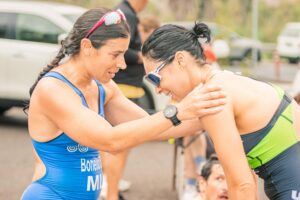 Danica Bonello Spiteri and Maya Schembri Rodgers after the race (Photo: Andrea Azzopardi)
"Danica has shown us the true measure of sportsmanship: being human above competitiveness. She has definitely redefined the meaning of victory in this local competitive sport. Truly an inspiring athlete whose actions are truly laudable," said Edward Licari, Director of Together Gaming Solutions.
The TGS Malta Fair Play Award was presented by Edward Licari, Director of Together Gaming Solutions, at their offices in St. Julian's. Charles Camenzuli was representing the Malta Fair Play Movement.
Members of the public, teams, or officials can notify the Malta Sports Journalists Association and the Malta Fair Play Movement and make them aware of a fair play gesture by contacting them at info@maltasportsjournalists.com for consideration.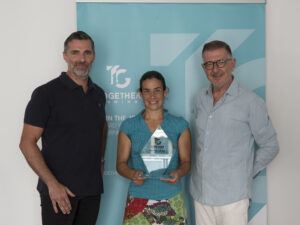 Photo caption: Edward Licari (Director of Together Gaming Solutions) with TGS Fair Play Award April-June 2023 Winner Danica Bonello Spiteri (Triathlon) and Charles Camenzuli (Chairman Malta Fair Play Movement).