IZIBET Elite Athlete Award launched
National Lottery plc, in collaboration with the Malta Sports Journalists Association (MSJA), unveiled a new bi-monthly award exclusively dedicated to elite Maltese athletes.
The IZIBET Elite Athlete Award aims to recognise exceptional performances by local athletes and will be presented every two months covering  the periods  January–February, March-April, May-June, July–August, September-October, and November–December.
A selection board comprised of sports journalists and sports observers will be responsible for evaluating the athletes' achievements during the designated review periods, ensuring a fair and thorough assessment process.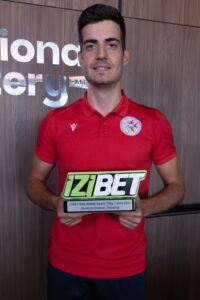 The inaugural award, covering the period May–June 2023, was awarded to Malta's Trap Champion, Gianluca Chetcuti. Chetcuti has beaten a national record of 124/125 target hits in the Trap Event, at the European Games 2023, held in the Wroclaw Shooting Centre in Poland, between the 21st June and 2nd July 2023. Chetcuti qualified for these games thanks to his achievement in March during the ISSF World Cup in Doha, Qatar, where he had 122/125 target hits in the Trap Event, becoming the first Maltese athlete to end up in the final of such an event. In the beginning of May, he had 114/125 hits in the Trap Event during the ISSF World Cup in Cairo, Egypt, where he placed 34th out of the 120 participants.
Franco De Gabriele, Chief Commercial Officer of National Lottery plc, highlighted the importance of sports within the Lottery's annual corporate social responsibility programme. National Lottery plc has maintained a longstanding partnership with the MSJA and remains committed to supporting the invaluable work carried out by this association. Through this new collaboration, National Lottery plc aims to further demonstrate its dedication to local sports by acknowledging the remarkable achievements of local athletes on an international stage, while also raising awareness among local enthusiasts about the positive representation of local talent worldwide.
De Gabriele stated, "We take great pride in our partnership with the Malta Sports Journalists Association and are excited to launch this prestigious award. By recognising the efforts of our local athletes, we aim to encourage athletes to continue striving for excellence in their respective fields. We firmly believe that recognising their hard work and exceptional accomplishments will motivate them to progress further in their careers. By celebrating and honouring their achievements, we also hope to inspire a sense of national pride in our local sports community".
Sandro Micallef, President of the Malta Sports Journalists Association, expressed his satisfaction with National Lottery's continued investment in sports.
Micallef commented, "I am extremely satisfied that such a reputable company like National Lottery with its brand IZIBET has agreed to launch the Elite Athlete Award alongside the Malta Sports Journalists Association. Such an initiative will continue to support Maltese athletes giving merit to the sacrifices made by our local elite athletes in achieving the best results both locally and abroad".
In the meantime, the official website of the Malta Sports Journalists Association https://www.maltasportsjournalists.com/ provides the rules and regulations governing the award.