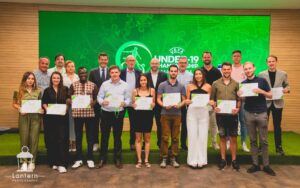 The Malta SJA congratulates all twelve participants of the AIPS Young Reporters Programme which was held in Malta during the UEFA Under-19 Championship.
For two weeks, the twelve young journalists had the opportunity to get in touch with the organisation of such an international football event and gain a good grasp and knowledge about sports journalism.
Before the Under-19 Championship final between Portugal and Italy the participants received official certificates upon their successful completion of this immersion programme
The Certificates were presented by Gianni Merlo, President of AIPS along with former football legend Zvonimir Boban, UEFA Technical Director and Chief of Football.
The presentation was also attended by Bjorn Vassallo, Malta Football Association President; Malta Sports Journalists Association President and General Secretary Sandro Micallef and Lorraine Cunningham respectively along with AIPS Europe President Charles Camenzuli.
During this presentation ceremony, Gianni Merlo showed his gratitude to UEFA for their contribution to the AIPS Young Reporters Programme, a collaboration which kicked off way back in 2013 at the UEFA Under-21 Championship in Israel.
The twelve journalists who participated in the AIPS Young Reporters Programme held in Malta for the UEFA U-19 European Championship were:
Camila Alves, Brazil
Guðmundur Aðalsteinn Ásgeirsson, Iceland
Emmanuel Ayamga, Ghana
Ryan Cauchi, Malta
Panagiota Chalkia, Greece
Andrew Dempsey, Ireland
Costanza Marsili, Italy
Tomáš Plavecký, Slovakia
Alba Reinado, Spain
João Sampaio, Portugal
Tor Henrik Fredriksen Stensland, Norway
Konrad Witkowski, Poland
The Malta Sports Journalists Association wishes the best of luck to all the participants in view of their sports journalism career.