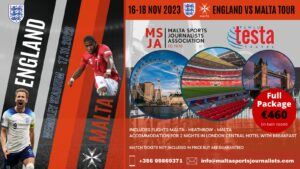 The Malta Sports Journalists Association (MSJA) is pleased to announce that it will organise a tour for the England vs Malta match for those members who would like to follow the Maltese National Football Team in the Group C Qualification away fixture for Euro 2024 scheduled on the 17th November at Wembley Stadium in London.
The tour will be organised between the 16th and 18th November 2023. The package tour, which is being sold at €460, includes the flights from Malta-Heathrow-Malta with Air Malta, as well as 2 nights accommodation in a central London hotel on a bed and breakfast basis. The departure which is scheduled for the 16th November will be an early flight whilst the return flight for the 18th November will be a late flight, therefore the group will have 3 full days in London.
MSJA members who would like to apply for the media accreditation to follow the match from the media tribune can do so when the media accreditation process will open in due course.
This tour is open also for the general public.  Match tickets are not included in the price but are guaranteed.
Those interested are kindly requested to get in touch by sending an email to info@maltasportsjournalists.com or by calling on 99869371.