Francesca Clark has been awarded the Atlas Youth Athlete of the Month Award for the month of February
In the month of February, she won her third Triple Crown (meaning winning the Women's Singles, Doubles and Mixed Doubles categories) at the age of 17 in the Malta National Championships 2023 organised by Badminton Malta.
Francesca is also achieving results in the international sphere both in the official Junior and Senior Circuit Competitions. In the Slovak Junior she reached the round of 16 in the Women's Doubles and won Bronze in the U17 Portugal Open. In the Yonex Israel Open she reached the semi-finals of the Mixed Doubles together with Sam Cassar.
She has been playing badminton for over eight years and has also won several junior titles in the past.
The trophy for the February 2023 Atlas Youth Athlete of the Month together with the sports apparel voucher were presented to Francesca Clark by Robert Micallef, Chief Commercial Officer, of Atlas Insurance. The Malta Sports Journalists Association was represented by Administrator Stephen Azzopardi for this presentation.
This award is a joint initiative of the Malta Sports Journalists Association and Atlas Insurance. The adjudicating panel of this award takes note of all the youths' achievements of the month under review and at the same time it invites local sport associations and federations to send in their nominations for consideration if they feel that any of their under-21 athletes have distinguished themselves during that month.
Nominations for this award may be sent via email to info@maltasportsjournalists.com. The rules and regulations of the award can be viewed on the website www.maltasportsjournalists.com.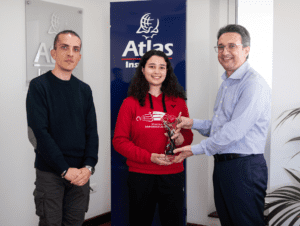 Photo caption: From left: Stephen Azzopardi, Administrator (MSJA), Francesca Clark and Robert Micallef, Chief Commercial Officer (Atlas Insurance).