Nicholas Muscat has been awarded the Atlas Youth Athlete of the Month Award for the month of November 2022.
Young bowler Nicholas Muscat, aged 17, won the U23 National Championships and his second personal U23 title. He also helped his team OKMalta.com to win the national league Division 1, for the seventh consecutive time.
In September, Muscat made history as he became the first Maltese to ever make the final of the European Youth Championships (EYC) Masters event after winning two bronze medals individually (All Events) and alongside his national team-mates (Team Event). He earned a silver medal in the Boys' Masters Event – arguably the most prestigious championship with the top 24 bowlers from the entire EYC.
The trophy for the November 2022 Atlas Youth Athlete of the Month, together with the sports apparel voucher, were presented to Nicholas Muscat by Robert Micallef, Chief Commercial Officer of Atlas Insurance. The Malta Sports Journalists Association was represented by President Sandro Micallef and Administrator Stephen Azzopardi.
This award is a joint initiative of the Malta Sports Journalists Association and Atlas Insurance. The adjudicating panel of this award takes note of all the youths' achievements during the month under review and invites local sports associations and federations to send their nominations for consideration if they feel that any of their under-21 athletes have distinguished themselves during that month.
Nominations for this award may be sent via email to info@maltasportsjournalists.com. The rules and regulations of the award can be viewed on the website
www.maltasportsjournalists.com.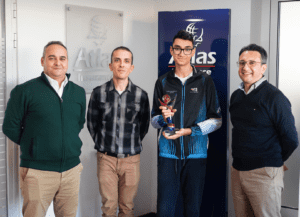 Photo caption: From left: Sandro Micallef, President (MSJA). Stephen Azzopardi, Administrator (MSJA), Nicholas Muscat, and Robert Micallef, Chief Commercial Officer (Atlas Insurance)