Kai Azzopardi has been awarded the Atlas Youth Athlete of the Month Award for the month of March. At the age of 15, he became the youngest male athlete to win a multi-sport championship title when he won the National Duathlon Championships, hosted in Gozo.
The race was marked by adverse weather conditions, which made the course even more challenging. Racing against a field of experienced athletes, Azzopardi showed he was able to race in a tactical manner beyond his young age. Azzopardi's coach, Danica Bonello Spiteri, remarked that his result was all about his ability to learn and listen to guidance, as well as his regular commitment to training. It all augurs well for the future.
Kai Azzopardi trains with Agones SFC and in the last five years the Malta Youth Triathlon Academy awarded him as the Triathlon Athlete of the Year. He also forms part of the Malta Youth Olympic Programme. He was the only Maltese athlete out of 20 European athletes who were selected to attend the fully funded Pho3nix Futures Programme training camp in Lausanne, Switzerland.
The year 2021 was also a very fruitful year for Azzopardi after placing first overall out of 140 athletes at the Trumer Super Sprint Triathlon (open to all ages) held in Obertrum am See, Austria in July.
The trophy for the March 2022 Atlas Youth Athlete of the Month, together with the sports apparel voucher, were presented to Kai Azzopardi by Robert Micallef, Chief Commercial Officer and David Cassar Business Development & Marketing Manager of Atlas Insurance. The Malta Sports Journalists Association was represented by Vice President Clinton Buhagiar and Administrator Stephen Azzopardi for this presentation.
This award is a joint initiative of the Malta Sports Journalists Association and Atlas Insurance. The adjudicating panel of this award takes note of all the youths' achievements during the month under review and at the same time invites local sports associations and federations to send in their nominations for consideration if they feel that any of their under-21 athletes have distinguished themselves during that month.
Nominations for this award may be sent via email to info@maltasportsjournalists.com. The rules and regulations of the award can be viewed on the website www.maltasportsjournalists.com.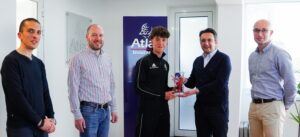 Photo caption: From left: Stephen Azzopardi, Administrator (MSJA); Clinton Buhagiar, Vice President (MSJA); Kai Azzopardi; Robert Micallef, Chief Commercial Officer (Atlas Insurance); and David Cassar, Business Development & Marketing Manager (Atlas Insurance).