Nicolai Bonello has been awarded the Atlas Youth Athlete of the Month Award for the month of February, for setting a new national pole vault record with a remarkable jump of 4.35m.
Nicolai Bonello still aged 16, attends Sixth Form at De La Salle College and competes for the School's Club colours with La Salle Athletic Club. He has been very active from a young age practicing a variety of sports until he took up gymnastics as his main sport, also winning the National Championships in different apparatus. At the end of 2020 he returned to athletics trying to combine his gymnastics background, which he continues to practice and compete in, with his athletic abilities. His natural event in Athletics was Pole Vault, where in a few weeks, with the help of his Bulgarian ex-Pole Vaulter coach Mr Jivko Jetev, he set the U16 National Record in his very first competition.
In 2022, he set his eyes on the U20 record of 3.90m which he immediately matched in his first competition of the season in January 2022. In February, one of the highlights in the Athletics Malta's Winter Championships was his spectacular pole vault jump, setting a new national record at 4.35m. With his jump, he broke the record of 4.25m set by Stefan Mohnani way back in 2000. Incidentally, Stefan Mohnani was also coached by Mr Jivko Jetev. Still rather new to the event, Bonello surely promises to take the event to new heights.
The trophy for the February 2022 Atlas Youth Athlete of the Month together with the sports apparel voucher were presented to Nicolai Bonello by Matthew von Brockdorff, Managing Director & CEO, and Robert Micallef, Chief Commercial Officer, of Atlas Insurance. The Malta Sports Journalists Association was represented by Vice President Clinton Buhagiar and Administrator Stephen Azzopardi for this presentation.
The first award for 2022 was claimed by Jeremy Zammit, long jumper, who claimed the accolade in January.
This award is a joint initiative of the Malta Sports Journalists Association and Atlas Insurance. The adjudicating panel of this award takes note of all the youths' achievements of the month under review and at the same time it invites local sport associations and federations to send in their nominations for consideration if they feel that any of their under-21 athletes have distinguished themselves during that month.
Nominations for this award may be sent via email to info@maltasportsjournalists.com. The rules and regulations of the award can be viewed on the website www.maltasportsjournalists.com.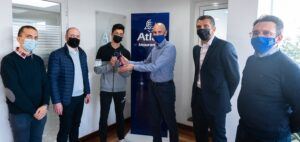 Photo caption: From left: Stephen Azzopardi, Administrator; Clinton Buhagiar, Vice President (both MSJA); Nicolai Bonello; Matthew von Brockdorff, Managing Director & CEO (Atlas Insurance); Mario Bonello, Nicolai's father and Robert Micallef, Chief Commercial Officer (Atlas Insurance).