Matti Satariano has been awarded the Atlas Youth Athlete of the Month Award for the month of November.
The 14-year-old Sliema Inter Darts Club player managed to score 3 180s, which means he marked the highest score possible by landing the darts on a triple 20 three times. He obtained this successful score during a national championship match organised by the Malta Darts Association. In fact, Sliema Inter DC played Floriana Ajax, and he played John Ciantar, winning his game 3 -2 with 3 180s. In the end, as a team, after all the teams' players played their respective games, Sliema DC lost 6-2.
The trophy for the November 2021 Atlas Youth Athlete of the Month together with the sports apparel voucher were presented to Matti Satariano by Robert Micallef, Chief Commercial Officer of Atlas Insurance. The Malta Sports Journalists Association was represented by President Sandro Micallef, Administrator Stephen Azzopardi and member Domenic Aquilina for this presentation.
So far, the 2021 winners are: Kayden Lagana (Tenpin Bowling) – January, Francesca Curmi (Tennis) – February, Mya Azzopardi (Swimming) – March, Jeremy Zammit (Long Jump) – April, Malta U-15 Water Polo National Team – May, Sasha Gatt (Swimming) – June, Jeremy Zammit (Long Jump) – July, U17 Women's Water Polo National Team – August, Zea Montfort (Artistic Swimming) – September and Lijana Sultana (Squash) – October.
This award is a joint initiative of the Malta Sports Journalists Association and Atlas Insurance. The adjudicating panel of this award takes note of all the youths' achievements of the month under review and at the same time it invites local sport associations and federations to send in their nominations for consideration if they feel that any of their under-21 athletes have distinguished themselves during that month.
Nominations for this award may be sent via email to info@maltasportsjournalists.com. The rules and regulations of the award can be viewed on the website www.maltasportsjournalists.com.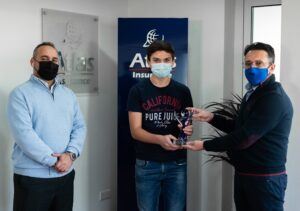 Photo caption: From left: Sandro Micallef, President of the MSJA, Matti Satariano, and Robert Micallef, CCO Atlas Insurance