The U17 Women Water Polo National Team have been awarded the Atlas Youth Athlete of the Month Award for August. Like the Malta U15 National Water Polo Team in May, this award was given to all team players instead to an individual athlete.
The team, led by coach Anthony Farrugia, left a positive mark in the first international experience for a Maltese women's water polo national team at a European Championship. 19 nations competed in the LEN Women's European U17 Water Polo Championships in Sibenik, Croatia, with Malta drawn in Group C with Croatia, Germany, Romania and Russia.
Despite losing the first two matches against Croatia and Germany, the team's performance improved with every match proving that the girls could perform against Romania and indeed, they were not disappointed as they managed to obtain a merited positive result of 11 – 8.
Following this result, the team had the possibility to play in the final ranking matches for 13th to 16th place. The Malta women's U-17 national team achieved a prestigious result as they beat Bulgaria 10-9 to finish in 15th place in the competition.
The trophy for the August 2021 Atlas Youth Athlete of the Month together with a memento for all players were presented to the team by Matthew von Brockdorff, Managing Director and Chief Executive Officer of Atlas Insurance. The MSJA was represented by President Sandro Micallef, General Secretary Lorraine Cunningham and Administrator Stephen Azzopardi for this presentation.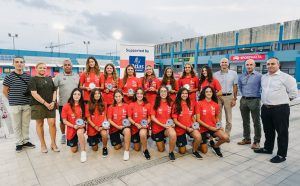 The 2021 winners so far were: Kayden Lagana (Tenpin Bowling) – January, Francesca Curmi (Tennis) – February, Mya Azzopardi (Swimming) – March, Jeremy Zammit (Long Jump) – April, Malta U-15 Water Polo National Team – May, Sasha Gatt (Swimming) – June and Jeremy Zammit (Long Jump) – July.
This award is a joint initiative of the Malta Sports Journalists Association and Atlas Insurance. The adjudicating panel of this award takes note of all the youths' achievements of the month under review and at the same time it invites local sport associations and federations to send in their nominations for consideration if they feel that any of their under-21 athletes have distinguished themselves during that month.
Nominations for this award may be sent via email to info@maltasportsjournalists.com.
The rules and regulations of the award can be viewed on the website www.maltasportsjournalists.com.
During the same presentation, young sailor Richard Schultheis received the coveted trophy of Young Male Athlete of the Year, which was given during the SportMalta Awards L-Għażliet Sportivi Nazzjonali way back in March, as Schultheis was abroad for the June presentation of these awards.