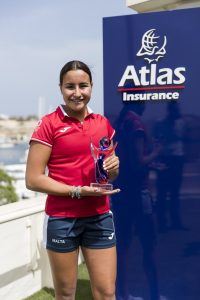 Sirens ASC 15-year-old swimmer Sash Gatt has claimed the Atlas Youth Athlete of the Month Award for the month of June 2021. Gatt was chosen as the winner of the June award following her outstanding results, thus breaking her own personal, national and age group records.
In the 400m freestyle, she stopped the clock in 4:18.58, over five seconds faster than the 4:23.33 mark she established in February. The very next day, Gatt broke her own national record in the 800m freestyle with a time of 8:52.22. She had previously set that record in March at 8:58.88, as the opening split of what was also a national record-breaking time in the 1500m. Both of those national records are also the Maltese age group records.
The 2021 winners so far were: Kayden Lagana (Tenpin Bowling) – January, Francesca Curmi (Tennis) – February, and Mya Azzopardi (Swimming) – March, Jeremy Zammit (Long Jump) – April and Malta U15 Waterpolo National Team – May.
This award is a joint initiative of the Malta Sports Journalists Association and Atlas Insurance. The adjudicating panel of this award takes note of all the youths' achievements of the month under review and at the same time it invites local sport associations and federations to send in their nominations for consideration if they feel that any of their under-21 athletes have distinguished themselves during that month.
Nominations for this award may be sent on email info@maltasportsjournalists.com.
The rules and regulations of the award can be viewed on the website www.maltasportsjournalists.com.