Lorraine Cunningham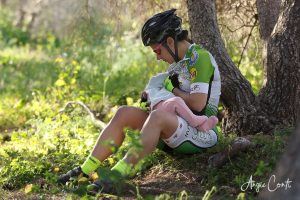 Photo by Angie Conti
On 8th March the World celebrates Women's Day and to tell you the truth I have never been a great fan of this day, as being one advocating equality among sexes, I always thought that this was opposing my ideals.
A few days ago, a fellow Maltese sports photo reporter Angie Conti passed to me a particular picture that gave me a new perspective of Women's Day and why it should keep being celebrated.
This photo made me realize that whilst men and women were created equal, God gave us women an extra gift – the art of multi tasking. Being equal does not mean that we have to be a 100% copy of each other but having different capabilities that ultimately make us measure up to each other on the same level.
The most diverse thing between a man and a woman is that whilst both can be parents only a woman can actually give birth to a child and whilst parenting nowadays is becoming a combined job in the very sense of it all, breast feeding can only be done by the mother sharing that special bond only a mum can understand.
Juggling a career with motherhood is already hard in itself but today there are many ways and means one can go about it, especially as governments fully understand the need to facilitate this as much as possible if in our society we need to really practice what we preach – equal opportunities for all.
When it comes to sport this is much harder. Being an athlete, especially if you are considered to be an elite athlete in your sport, makes it very hard to take a sabbatical to start a family. But motherhood is time defined and nature does not wait so female athletes are faced with the dilemma of choice. Support is the ultimate key in these situations and whilst many big names in professional sports have managed to juggle their families with sport careers the set up behind them is incredible. I have personally witnessed this recently when I had the chance to visit some exceptional training facilities in the US.
Being a top female athlete in Malta wanting to start a family requires determination and that extra psychological preparation, so just thinking about it solicits determination in itself.
Malta Triathlete multiple national Champion Danica Bonello Spiteri pictured in the photo accompanying this article, is living proof that where there is a will there is a way and you don't have to give up one thing for the other. Planning pregnancy for an athlete is vital especially if you want to keep practicing at the same top level. One must understand that most probably juggling time would not just be between taking care of the child and training but also most probably with a full time job and house work. It is of utmost importance for cases like these that the husband/partner is involved with a hands-on approach in the upbringing of the child especially in the first 24 months after birth.   I am sure that like our own Maltese triathlete Danica there are many other Maltese sportswomen who time manage their day in such a way that from the outside it looks easy but in actual fact it is not. We need to appreciate and understand their sacrifices.
Multi tasking and time management are wonderful attributes that come naturally to most women. Reflecting on all this I have realized that after all we are entitled to celebrate our achievements on Women's Day.
Here's to Women Empowerment in every sector of society.