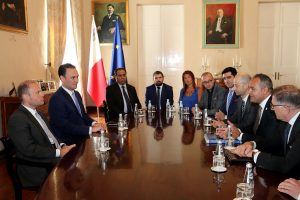 The newly elected Executive Committee of the Malta Sports Journalists Association paid a courtesy visit to the Hon Prime Minister Dr. Joseph Muscat at Auberge de Castille Valletta.
The MSJA delegation was headed by the President of the Association Sandro Micallef and General Secretary Mark Mizzi.
The Prime Minister congratulated the newly elected Executive Committee and augured that sports journalists will continue to help the promotion of Sports in our country. He continued by expressing that sports journalists play an important role especially by reporting regularly the participation and success of Maltese athletes both locally and internationally. He stated that sports is at his heart as it is a means that unites the Maltese people.
Sandro Micallef, President of MSJA, remarked that sports journalists had noted and evaluated the recent criticism made public recently by the Prime Minister himself in relation to the fact that emphasis should not always be made on local football but that it should be extended to other so called minor sports which also register success internationally.
Micallef outlined the projects that the MSJA will be undertaking in the near future amongst them the opening of the first ever Sports Museum in Malta and the participation in an Erasmus+ programme focusing on opportunities for women in sports media.
Also present for this meeting was the Parliamentary Secretary responsible from Youth, Sport and Voluntary Organisations Hon. Clifton Grima as well as the President of AIPS Europe Charles Camenzuli.