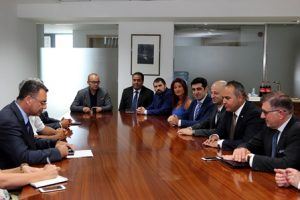 The Executive Committee of the Malta Sports Journalists' Association held also formal meeting with the Hon. David Agius, the Opposition's spokesperson on Sports.
The Officials of the Malta Sports Journalists' Association expressed their satisfaction at the fact that the Opposition had seen it fit to re-appoint Mr. Agius as the Shadow speaker responsible from sports especially considering that he comes from a Sports administration background.
Mr. Agius stated that in most of the Government's decisions and proposals that had been put forward during the last legislature, the Opposition always cooperated with the Government. He reiterated that the Opposition also contributed in the Task Force that was set up by the MFA in 2015 that resulted in strengthening the existing legislation regarding corruption in sport.
Mr Agius augured success to the newly elected Executive committee of the MSJA and hoped that the new President Sandro Micallef will follow in the footsteps of his predecessors, former Presidents Fr. Hilary Tagliaferro, Henry Calleja and Charles Camenzuli in order for the Association to be strengthened in the coming years.
Sandro Micallef urged the Nationalist Party to promise the setting up of a Ministry totally dedicated to sports in the party's next electoral manifesto. Micallef urged the PN to agree with other Political Parties and support the MSJA idea that Sports Associations should be handed a direct civil servant seconded with them in the role of a full time administrator. With this initiative Sports Associations will be getting closer to professionalism especially with regards to administration.
During the meeting several other matters were discussed among which the role the Malta Sports Journalists' Association should take to push sports higher up in the country's agenda.
Accompanying Mr Agius were MP Robert Arrigo and several members from the Nationalist Party's TimSport section.