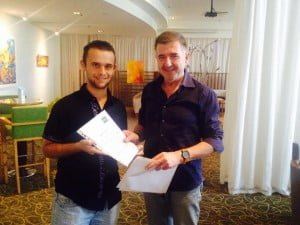 The President of the Malta Sports Journalists Association Mr Charles Camenzuli has officially presented the appointment letters to the four Maltese sports journalists members of the MSJA who will attend the four day Job Shadowing at Sky Sport Italia in Milan in October 2015.
The Journalists who successfully made it were Gianluca Lia, Robert Busuttil, Matthew Mamo and Nigel Mifsud.
These were summoned for a briefing before their experience. They were addressed by the President and General Secretary of MSJA Charles Camenzuli and Sandro Micallef respectively. MSJA Treasurer Antoine Dalli was also in attendance.