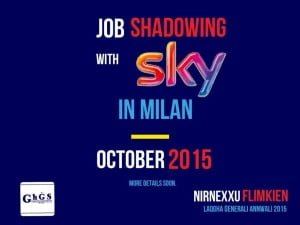 Four Malta Sports Journalists Association members have been chosen among seven candidates to attend a four day Job Shadowing experience with one of Europe's leading Sports Newsroom namely Sky Italia Spa.
The four young journalists are Robert Busuttil, Nigel Mifsud (TVM), Matthew Mamo (media.link Communications) and Gianluca Lia (Freelance). They will be accompanied for this experience by MSJA General Secretary Sandro Micallef who held discussions with the Italian media house over the past months.
The interviewing board was formed by Charles Camenzuli President MSJA, Sandro Micallef MSJA General Secretary and Pierre Cassar CEO Malta Broadcasting Authority.
The Job Shadowing will be held between the 19th and the 23rd October 2015. During their visit to Sky's Premises in Milan the sports journalists will also have the opportunity to visit the Malta Stand at the Milan 2015 EXPO.