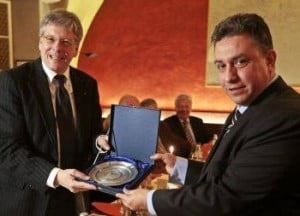 KLAGENFURT, March 5, 2014 – Between the 3 – 5 March, AIPS EUROPE held its Exceutive Committee meetings in Flagenfurt, Austria. These were the final official EC meetings prior to the General Assembly due to be held on the 27th April in Baku, Azerbaijan during the AIPS Congress.
The main issue during the meeting was the final preparation for the General Assembly during which the new Executive Committee is to be elected for the three year term up to 2017. The EC confirmed all 17 contestants for the nine positions as members on the Executive Committee.
President Yannis Daras, Secretary General Charles Camenzuli and Treasurer Murat Agca are uncontested for the leading positions within AIPS Europe.
The elections to be held on the 27th April show a record number of contestants covering 20 European countries and for the first time ever having also three women as candidates.
AIPS Europe Bureau held also an official meeting with AIPS Treasurer Michael Kuhn who is also President of the Sports Journalists Association of Austria . With Mr.Kuhn various topics of common nature between AIPS and AIPS Europe were discussed and hopefully such meeting strengthened the bond and reciprocal support between the two entities.
At the same time the EC discussed various matters via Skype with AIPS President Mr.Gianni Merlo.
The Sports Journalists Association of Austria manned by Michael Kuhn, vice President Hans Peter Trost and Secretary General Josef Langer together with AIPS Europe EC member and organizer of the event in Klagenfurt Gunter Pfeistlinger invited six leading officials from Austria's neighbouring countries namely Gianfranco Coppola (Italy) , Vladimir Drbohlav (Czech Republic) , Petz Lahure (Luxembourg) , Laszlo Pajor Gyulai ( Hungary), Jura Ozmec (Croatia) and Joze Zidar (Slovenia).
As observers to the EC meetings, those present took active part in discussions which covered current situations within the European sport media.
In Klagenfurt AIPS Europe EC committee and observers had the opportunity to meet Dr.Peter Kaiser, Governor for Carinthia who expressed his interest and support for further sport media activities to be held in the region.
This was expressed during the Media Conference addressed by Dr.Kaiser and Pesident Yannis Daras  which brought to an end the successful meetings held in Klagenfurt.
AIPS Europe EC committee was also addressed by  Mr.Hannes Maschkan for the European Youth Olympic Winter Festival 2015 to be held in Worarlberg and Liechtenstein.