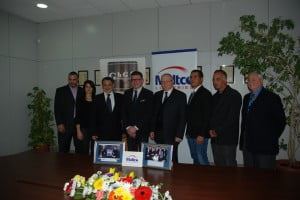 " The fact that a leading company like Maltco Lotteries through U*Bet showed full support to the National Sports Awards organized by the Malta Sports Journalists Association is a guarantee that during the past months what was achieved by the local media is the result that the Malta Sports Journalists Association remains the leading figure having a specific role in sport society " – this was stressed by Mr. Charles Camenzuli President of the Malta Sports Journalists Association during the presentation of financial grants by Maltco Lotteries.
Through U*Bet the five winners in the five major awards of the 53rd Edition for the first time ever were given financial support which will definitely help them in their immediate future sport commitments.
Mr.Camenzuli thanked Dr.Vasileios Kasiotakis – General Director of Maltco Lotteries Limited who together with Dr.Ioannis Katakis CEO Maltco Lotteries Limited were instrumental for such initiative and support to these awards. Present also was Mr.Hugh Mercieca, official for Maltco Lotteries Ltd.
Those who received the grant were William Chetcuti and Sue Abela,  Sportsman and Sportswoman of the Year respectively, Karl Izzo and Nathan Lee Xuereb chosen as Official of the Year and Promising Athlete of the Year respectively as well as the National Team of Waterpolo winners of the Team of the year Category.
During the presentation essay writer Billy Corito was presented with the runner-up silver medal for the Sportsman of the Year category as he was not present during the Awards Night due to his last boxing bout.