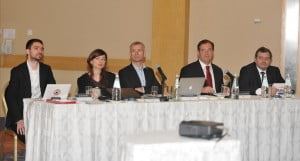 The Malta Sports Journalists Association participated in a match fixing seminar organised by Maltco Lotteries.
President Charles Camenzuli, General Secretary Sandro Micallef, Assistant Treasurer Henry Brincat and member Matthew Mamo represented the Association for this important seminar on the current subject of match fixing.
"Building National Networks in the EU to fight Match-Fixing" was the main subject chosen for the seminar organized by Maltco Lotteries Ltd. in collaboration with the Institute for International and Strategic Relations (IRIS) and the European Lotteries.
For the very first time in Malta, Maltco Lotteries has taken up such initiative in order to bring together a number of local sports representatives and Government Stakeholders to discuss the phenomenon of match fixing and the importance that this subject brings along. The project was supported by the European Commission. This project started around a year ago and so far more than 20 seminars have been organized in most European Countries.
The aim behind such an ambitious project was mainly to raise awareness and educate sports administrators and national stakeholders about the match-fixing threat and the potential betting-related risks, to identify best practices at a national level, to promote a cooperation among all stakeholders, to safeguard sports integrity at a national level and to set the basis of EU national networks of stakeholders involved against match-fixing in order to facilitate a harmonised international framework.
The Seminar was opened by the Hon. Stephan Buontempo, Parliamentary Secretary for Research, Innovation, Youth and Sport and by Dr. Ioannis Katakis, Maltco's C.E.O.
The Seminar was attended to by representatives from various Sports Associations and Stakeholders mainly the Malta Football Association, the Malta Sports Journalists Association (Ghaqda Gurnalisti Sports, the Kunsill Malti ghall-Isport, The National Olympics Committee, the Malta Police Force, the Malta Football Players Association, the Malta Refereeing Department within the MFA and the Lotteries & Gaming Authority.
The main speakers for the event were Mr. Pim Vershuuren who is in charge of the IRIS Peace & Sport programme and he also represents IRIS at the Permanent Consultative Council of the Intergovernmental Commitee for Physical Education and Sport of UNESCO. Mr. Christian Kalb was the second speaker. Mr. Kalb is the Director of CK Conusulting and is a specialist of the gaming industry and the sports organizations. He is very involved in the defence of the sporting values especially in good governance, fight against matxh fixing and doping. The last speaker was Ms. Sarah Lacarriere, an integrity officer with Sportaccord. She is responsible for developing and updating tools and information related to the Global Programme to Stop match fixing in sport, particularly the e-learning programme on how to prevent match fixing from destroying anyone's career.
The seminar was anchored by Mr Charles Camenzuli President of the Malta Sports Journalists Association.