Thyis Antonelli, who recently turned 15, has been awarded the Atlas Youth Athlete of the Month Award for August. This is the first time that Thyis Antonelli received this award, and it is also the first time that the winner is representing the Malta Karate Federation.
Thyis Antonelli emerged as a prominent athlete at the second edition of the International Sport School Federation (ISF) U15 Gymnasiade 2023 Games held between the 21st and 27th August in Rio de Janeiro, Brazil.
More than 2000 athletes aged between 13 and 15 years competed in 18 disciplines in what is also known as the World School Sports Games, featuring high technical standards in the respective disciplines.
Competing in the U/15 Kumite +54 kg Cadet category, Thyis Antonelli displayed remarkable skill and determination, securing the first position in her group. Competing against an opponent from USA in the final, Antonelli demonstrated her unwavering spirit with an impressive 8-1 win, seizing the gold medal and marking a historic moment as the first Maltese gold medallist at the ISF Gymnasiade Games.
Thyis Antonelli will be participating in the Small States of Europe Karate Championships that will be held in Luxembourg this month, where she will form part of the Malta Team.
The trophy for the August 2023 Atlas Youth Athlete of the Month together with a sports apparel voucher were presented to Thyis Antonelli by Robert Micallef, Chief Commercial Officer of Atlas Insurance. The Malta Sports Journalists Association was represented by Executive Committee Member Mark Muscat and Administrator Stephen Azzopardi.
This award is a joint initiative of the Malta Sports Journalists Association and Atlas Insurance. The adjudicating panel of this award takes note of all the youth athletes' achievements during the month under review and at the same time it invites local sport associations and federations to send in their nominations for consideration if they feel that any of their under-21 athletes have distinguished themselves during that month.
Nominations for this award may be sent via email to info@maltasportsjournalists.com. The rules and regulations of the award can be viewed on the website www.maltasportsjournalists.com.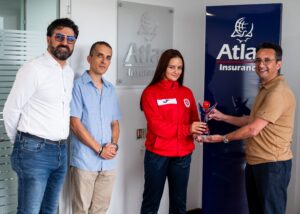 Photo caption: From left: Mark Muscat and Stephen Azzopardi (MSJA), Thyis Antonelli and Robert Micallef (Atlas Insurance).