Stefan Cassar has been awarded the Atlas Youth Athlete of the Month Award for the month of April. He won this monthly award for the very first time after achieving a new National Record of 6:31.15 in the Under-18 2000m Steeplechase during the Athletics Malta Open Challenge 4.
Cassar, who is 16 years old, has been practicing athletics for 11 years with La Salle Athletics Club. Apart from the Steeplechase he also enjoys long-distance running, such as 10km, which requires different skills and abilities from running shorter distances.
The trophy for the April 2023 Atlas Youth Athlete of the Month together with the sports apparel voucher were presented to Stefan Cassar by Matthew von Brockdorff Managing Director & CEO at Atlas Insurance. The Malta Sports Journalists Association was represented by Executive Committee Member Domenic Aquilina.
This award is a joint initiative of the Malta Sports Journalists Association and Atlas Insurance. The adjudicating panel of this award takes note of all the youths' achievements of the month under review and at the same time it invites local sport associations and federations to send in their nominations for consideration if they feel that any of their under-21 athletes have distinguished themselves during that month.
Nominations for this award may be sent via email to info@maltasportsjournalists.com. The rules and regulations of the award can be viewed on the website www.maltasportsjournalists.com.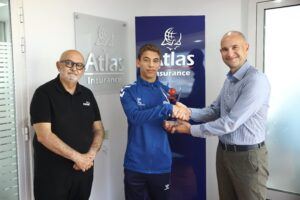 Photo caption: From left: Domenic Aquilina (MSJA), Stefan Cassar and Matthew von Brockdorff Managing Director & CEO (Atlas Insurance).