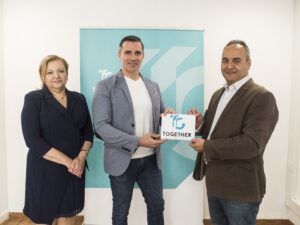 Malta based company Together Gaming Solutions plc who operates locally and internationally under the license issued by the Malta Gaming Authority has once again taken the decision to help the local sports industry.
This time the company has stepped up to help a delegation from the Maltese Sports Journalists Association by financing the trip of two officials to attend the AIPS Congress which will be held in Seoul in South Korea between the 8th and 12th May.
Malta Sports Journalists Association (MSJA) President Sandro Micallef and General Secretary Lorraine Cuningham met Mr Edward Licari, Director of Together Gaming Solutions, to thank him personally for making Malta's participation at the 2023 Congress possible.
MSJA's President Sandro Micallef showed his gratitude on behalf of the Executive Committee for this assistance and commented 'We are a voluntary Association with a very tight budget and if it was not for the direct financial assistance by TGS we would have missed this important Congress which will be held in Seoul. I look forward to seeing other local businesses follow the example of TGS and investing in local sports associations, athletes and administrators'.
TGS is renowned for its Social Corporate Responsibility programme which falls in line also with the ongoing voluntary work by the members of the Malta SJA.
Together Gaming Solutions and the Malta Sports Journalists Association have in the past teamed up also with the Malta Fair Play Movement by revamping the Malta fair Play award which is being handed on a quarterly basis.