Kim Camilleri Lagana has been awarded the Atlas Youth Athlete of the Month Award for the month of JanuaryCamilleri Lagana won this monthly award for the very first time after being named European Under-15 Champion in 2022, and in January 2023 she successfully qualified for the upcoming Youth World Championships.
At just 14 years of age, the young weightlifter managing a whopping 124kg total in the 45kg category. Kim managed all three snatch attempts at 51kg, 53kg and 54kg followed by another successful first two clean and jerk attempts at 68kg and 70kg. She was unfortunately unsuccessful on her third attempt after attempting a new national record in the clean and jerk for this weight class at 71 kg. Besides qualifying for the biggest youth event of the year, Camilleri Lagana also moved up to the platinum position in the MWA international rankings, which is a feat only junior athlete Tenishia Thornton had reached prior.
The trophy for the January 2023 Atlas Youth Athlete of the Month together with the sports apparel voucher were presented to Kim Camilleri Lagana by Robert Micallef, Chief Commercial Officer, of Atlas Insurance. The Malta Sports Journalists Association was by Administrator Stephen Azzopardi for this presentation.
This award is a joint initiative of the Malta Sports Journalists Association and Atlas Insurance. The adjudicating panel of this award takes note of all the youths' achievements of the month under review and at the same time it invites local sport associations and federations to send in their nominations for consideration if they feel that any of their under-21 athletes have distinguished themselves during that month.
Nominations for this award may be sent via email to info@maltasportsjournalists.com. The rules and regulations of the award can be viewed on the website www.maltasportsjournalists.com.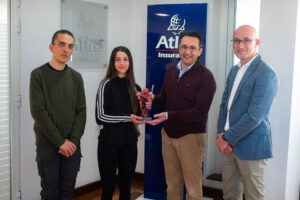 Photo caption: From left: Stephen Azzopardi, Administrator (MSJA), Kim Camilleri Lagana, Robert Micallef, Chief Commercial Officer (Atlas Insurance) and David Cassar Business Development and Marketing Manager (Atlas Insurance).