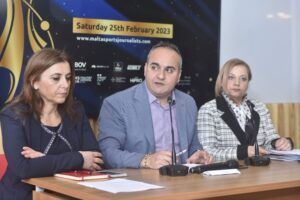 The finalists of this year's Sport Malta Awards Għażliet Sportivi Nazzjonali were announced. This event is aimed to acknowledge the sporting achievements acquired during the year 2022. A total of 59 journalists who are members of the Malta Sports Journalists Association had to cast their vote for the six finalists in each category. SportMalta Awards will also acknowledge the best two athletes of Special Olympics Malta and the Best Initiative for the Organization of an International Event in Malta, with the latter chosen by the Executive Committee of the Malta Sports Journalists Association. The public can also participate in the People's Choice Award.
During a press conference held at the Teddie Borg Hall at SportMalta's Cottonera Sports Complex, which was transmitted live on social media, the President of the Malta Sports Journalists Association, Sandro Micallef said that he's satisfied with the members' participation in the voting process and hopes that the final choice really reflects the achievements acquired by the athletes, coaches, teams, and officials throughout the year 2022.
Micallef added that the international guests for the awards ceremony are Gianfranco Coppola AIPS Europe EC Member and President of Sports Journalists Association Italy, Gyorgy Szollosi AIPS Europe Vice President and President of Sports Journalists Association Hungary, Mikaelo Papadakis General Secretary of the Cyprus Sports Journalists Association and Tanya Blake, the gold medals winner in the GSSE held in Malta in 2003 and represented Malta in the Summer Olympics in Athens in 2004.
The General Secretary of the Malta Sports Journalists Association, Lorraine Cunningham appealed to all finalists, coaches and their family members not to try and influence journalists in their final voting. Such individuals will be disqualified immediately from voting.
The 63rd edition of the SportMalta Awards of this year will be held on Saturday, 25th February at the Sir Temi Zammit Hall within the University of Malta, which will be transmitted live on TVM Sport + starting at 8 p.m. with the with the Red Carpet followed by the Awards Ceremony.
The finalists of the 63rd edition are:
Sportsman of the Year
Isaac Bezzina – Judo
Cliferty Calleja – Horse Racing
Kurt Farrugia – Para Rowing
Dejan Grech – Eight Ball Pool
Jake Tanti – Water Polo
Jeremy Zammit– Long Jump (Athletics)
Sportswoman of the Year
Ella Borg – Gymnastics
Francesca Curmi – Tennis
Katryna Esposito – Judo
Janet Richard – Athletics
Colette Sultana – Squash
Tenishia Thornton – Weightlifting
Youth Athlete of the Year Men
Luke Bonello – Table Tennis
Chaylon Castaldi – Blackball
Alex Degabriele – Tennis
Alec Fenech – Water Polo
Nick Mercieca – Para Rowing
Nicholas Muscat – Ten Pin Bowling
Youth Athlete of the Year Women
Philippa Busuttil – Gymnastics
Kim Camilleri Laganà – Weightlifting
Sasha Gatt – Swimming
Zea Montfort – Artistic Swimming
Lijana Sultana – Squash
Tenishia Thornton – Weightlifting
Coach of the Year
Melania Bajada – Football
Mario Bonello – Athletics
Jesmond Caruana – Weightlifting
Anthony Farrugia – Water Polo
Karl Izzo – Water Polo
Damian Neill – Rugby
Official of the Year
Peter Balzan – Water Polo
Terry Camilleri – Snooker
Alan Grima – Handball
Ronnie Spiteri – Water Polo
Anna Vassallo – Taekwondo
Rhona Xerri – Rugby
Team of the Year
National Senior Men's Team – BASKETBALL
National Men Doubles Team – BLACKBALL
National U/25 Men's Team – EIGHT BALL POOL
Ħamrun Spartans – FOOTBALL
National Senior Men's Team – WATER POLO
National u/16 Boys' Team – WATER POLO