Malta Men's U16 Water Polo Team has been awarded the Atlas Youth Athlete of the Month Award for the month of August 2022. This is the third time that the award has been given to a team instead of an individual athlete.
The Maltese youngsters made history with their first participation in the World Championships in Volos, Greece. They stunned the more-quoted United States side 10-7 in the opener and sealed top spot in the group with a 13-3 hammering of Kazakhstan. They bounced back from their 13-8 defeat to Turkey with an 8-6 win against the Egyptians and moved into the semi-finals of the Gold Group, where they re-matched against the United States. Even though they lost 10-7 against the United States, they settled for fourth place in the Gold Group after losing 9-7 to Brazil. Still, it's a remarkable result for them as they ended their commitments in an impressive 12th place in the tournament of 25 countries from around the world.
The trophy for the August 2022 Atlas Youth Athlete of the Month, together with a memento for all the U16 national team players, was presented by David Cassar, Business Development & Marketing Manager at Atlas Insurance. The MSJA was represented by Administrator Stephen Azzopardi for this presentation.
This award is a joint initiative of the Malta Sports Journalists Association and Atlas Insurance. The adjudicating panel of this award takes note of all the youths' achievements during the month under review and invites local sports associations and federations to send their nominations for consideration if they feel that any of their under-21 athletes have distinguished themselves during that month.
Nominations for this award may be sent via email to info@maltasportsjournalists.com. The rules and regulations of the award can be viewed on the website
www.maltasportsjournalists.com.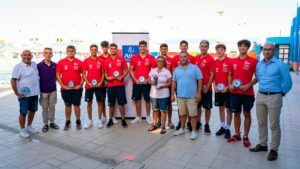 Photo caption: The Malta Men's U16 Water Polo Team with Anthony Farrugia (Coach), Rita Azzopardi (Aquatic Sports Association of Malta) Stephen Azzopardi (Malta Sports Journalists Association), and David Cassar (Atlas Insurance).