Matthew Galea Soler has been awarded the Atlas Youth Athlete of the Month Award for the month of July 2022.
Malta has won the first ever medal in the European Youth Olympic Festival (EYOF), thanks to this up-and-coming athlete. Galea Soler placed third in the 400m final race and registered a personal best of 48.84 thus being awarded the bronze medal.
The EYOF is specifically organised for young European athletes aged between 14 and 18 and this year it was held in Banska Bystrika, Slovakia.
The trophy for the July 2022 Atlas Youth Athlete of the Month, together with the sports apparel voucher, were presented to Matthew Galea Soler by Robert Micallef, Chief Commercial Officer of Atlas Insurance. The Malta Sports Journalists Association was represented by President Sandro Micallef, General Secretary Lorraine Cunningham and Administrator Stephen Azzopardi.
This award is a joint initiative of the Malta Sports Journalists Association and Atlas Insurance. The adjudicating panel of this award takes note of all the youths' achievements during the month under review and invites local sports associations and federations to send their nominations for consideration if they feel that any of their under-21 athletes have distinguished themselves during that month.
Nominations for this award may be sent via email to info@maltasportsjournalists.com. The rules and regulations of the award can be viewed on the website
www.maltasportsjournalists.com.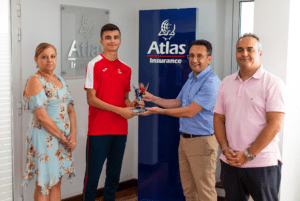 Photo caption: From left: Lorraine Cunningham General Secretary (MSJA), Matthew Galea Soler, Robert Micallef, Chief Commercial Officer (Atlas Insurance) and Sandro Micallef President (MSJA).