Tenishia Thornton has been awarded the Atlas Youth Athlete of the Month Award for the month of June.
Tenishia Thornton, at the age of 16, bagged an astonishing three gold medals and the title of world youth champion at the World Youth Championships held in Leon, Mexico.
Competing in the women's 55kg class, the young Maltese lifter stunned the field with a successful 78kg lift snatch, a successful 100kg lift in the clean and jerk, and a total of 178kg to set a new Commonwealth and national record.
This category was made up of 17 athletes from 13 different countries, including Egypt, Mexico, Australia, Canada, Croatia, Ecuador, United States, Italy, Tunisia, Turkiye, India, New Zealand, and Malta.
Tenishia Thornton was accompanied by her coach, Jesmond Caruana, who is also the President of the Malta Weightlifting Association (MWA).
The trophy for the June 2022 Atlas Youth Athlete of the Month, together with the sports apparel voucher, were presented to Tenishia Thornton by Matthew von Brockdorff, Managing Director and CEO of Atlas Insurance. The Malta Sports Journalists Association was represented by President Sandro Micallef and Administrator Stephen Azzopardi.
This award is a joint initiative of the Malta Sports Journalists Association and Atlas Insurance. The adjudicating panel of this award takes note of all the youths' achievements during the month under review and invites local sports associations and federations to send their nominations for consideration if they feel that any of their under-21 athletes have distinguished themselves during that month.
Nominations for this award may be sent via email to info@maltasportsjournalists.com. The rules and regulations of the award can be viewed on the website www.maltasportsjournalists.com.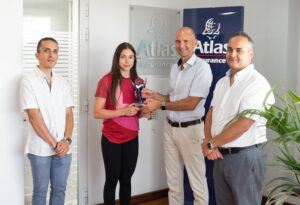 Photo caption: From left: Stephen Azzopardi Administrator (MSJA), Tenishia Thornton, Matthew von Brockdorff, Managing Director & CEO (Atlas Insurance) and Sandro Micallef President (MSJA).