Luke Bonello has been awarded the Atlas Youth Athlete of the Month Award for the month of May.
Together with Luke Fenech, Luke Bonello had an unbeaten run on the road to gold, having won all their games against the Azores, the two Baleares teams and Sicily in the COJI Games held in Mallorca. Bonello also won a gold medal on an individual basis, meaning he has won three gold medals in all.
Luke Bonello has been actively training table tennis since April 2014, when he had just turned seven years old. He showed an interest in the game after playing at home and his love for the game was immediately evident.
Luke joined HiTT Academy for a trial and soon became a regular at the training sessions. In December 2014, Luke went to Holland with head coach Mario Genovese for his first international experience. This event influenced him greatly, both as a table tennis student and as an individual, giving him an independence that even at that age has proved to be a great motivator for him.
He dreams of becoming a great table tennis player and wants to make the sport he loves his life's passion.
The trophy for the May 2022 Atlas Youth Athlete of the Month, together with the sports apparel voucher, were presented to Luke Bonello by Matthew von Brockdorff, Managing Director and CEO and Robert Micallef, Chief Commercial Officer of Atlas Insurance. The Malta Sports Journalists Association was represented by the Administrator, Stephen Azzopardi.
This award is a joint initiative of the Malta Sports Journalists Association and Atlas Insurance. The adjudicating panel of this award takes note of all the youths' achievements during the month under review and at the same time invites local sports associations and federations to send in their nominations for consideration if they feel that any of their under-21 athletes have distinguished themselves during that month.
Nominations for this award may be sent via email to info@maltasportsjournalists.com. The rules and regulations of the award can be viewed on the website www.maltasportsjournalists.com.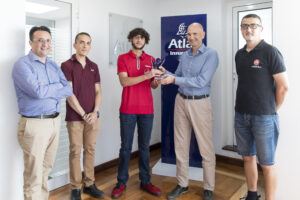 Photo caption: From left: Robert Micallef, Chief Commercial Officer (Atlas Insurance), Stephen Azzopardi Administrator (MSJA), Luke Bonello, Matthew von Brockdorff, Managing Director & CEO (Atlas Insurance) and John Bonello (Luke's father).