Atlas Insurance hosted a double presentation for footballer Haley Bugeja who was awarded the Atlas Youth Athlete of the Month Award for the month of December 2021 and the Atlas Youth Athlete of the Year 2021 award.
Due to her ongoing club commitments with Italian club U.S. Sassuolo, Atlas Insurance and the Malta Sports Journalists Association had to wait for Bugeja's arrival in Malta for the Women's Football National Team matches. This official presentation of these awards and the sports apparel vouchers were presented by Matthew von Brockdorff, Managing Director and CEO, Robert Micallef, Chief Commercial Officer of Atlas Insurance. The Malta Sports Journalists Association was represented by General Secretary Lorraine Cunningham and Administrator Stephen Azzopardi for this presentation.
In the meantime, Atlas Insurance has confirmed that it has renewed the collaboration with the Malta Sports Journalists Association for another year in relation to this initiative aimed at promoting young Maltese athletes. These awards are a joint initiative of the Malta Sports Journalists Association and Atlas Insurance. The adjudicating panel of this award takes note of all the youths' achievements of the month under review and at the same time it invites local sport associations and federations to send in their nominations for consideration if they feel that any of their under-21 athletes have distinguished themselves during that month. All the monthly winners are eligible for the annual award.
Nominations for this award may be sent via email to info@maltasportsjournalists.com. The rules and regulations of the award can be viewed on the website www.maltasportsjournalists.com.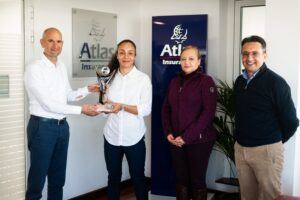 Photo caption: From left: Matthew von Brockdorff, Managing Director & CEO (Atlas Insurance), Haley Bugeja, Lorraine Cunningham, General Secretary (MSJA), Robert Micallef, Chief Commercial Officer (Atlas Insurance)