Paralympic athlete Thomas Borg has been awarded the 'Atlas Youth Athlete of the month' for the month of May 2020 after his perseverance and positive attitude helped him to keep active during the COVID-19 pandemic.
Thomas who is 18 years old was born with Dysmelia of his right forearm (Amelia). He opted for swimming after having played football for several years with the Melita AFC Youth Nursery.
His inspiring sporting journey continued in 2015 with swimming coach Ebi Ebidanaid. In the same year he was selected to form part of the Para Swimming national team under the guidance of coach Isabelle Zarb where he made his international competitive debut in Istanbul, Turkey.
During the season 2016/17 he joined Neptunes during which season he was officially classified and accepted to compete in official International Paralympic Committee swimming meets. Subsequently, he joined Exiles under coach Edward Caruana Dingli. During the past two seasons he has participated in no less than three international events two of which in Italy and at the World Para Swimming Championships in London.
He has recently decided to rejoin coach Ebidaniad at Inspire Foundation where he is set to intensify his swimming skills to try and qualify for the Tokyo Paralympic Games which have now been postponed to 2021.
During the past months Thomas was an inspiration to fellow youth swimmers and paralympic athletes as he intensified his training in and out of the water.
This is the fifth award being awarded to a local youth athlete since the launch of this Award which is a joint initiative by Atlas Insurance and the Malta Sports Journalists Association. The previous winners before the May award claimed by Borg were: Sprinter Rachela Pace who was awarded the January 2020 trophy, Pool player Dejan Grech who won the February 2020 award, Weightlifter Tenishia Thornton who claimed the March award and Jake Vella who was awarded the award for April 2020.
The Malta Sports Journalists Association is encouraging athletes under the age of 21, as well as their respective associations and federations who would like to submit nominations for this award to do so by sending an email on info@maltasportsjournalists.com
The trophy for the May 2020 Atlas Youth Athlete of the month together with the sports apparel voucher combined with this award was presented to Thomas Borg by Matthew von Brockdorff Chief Executive Officer of Atlas Insurance. Professor Joseph Grima President of the Maltese Paralympic Movement and Malta Sports Journalists Officials were also in attendance.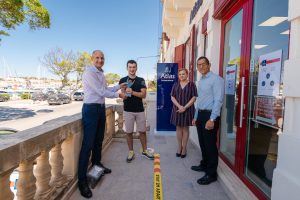 Photo Caption:
Thomas Borg proudly holding the May Award. Also in photo Matthew von Brockdorff  Chief Executive Officer of Atlas Insurance and Lorraine Cunningham General Secretary Malta SJA amongst others.