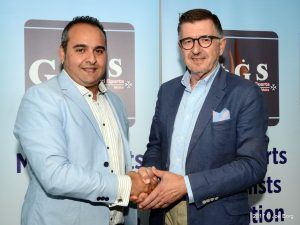 Sandro Micallef is the new President of the Malta Sports Journalists Association after he has been elected in the Association's Annual General Meeting held on Monday 10th July. He replaces long serving President Charles Camenzuli who had recently resigned from the post after being elected in his new role as AIPS Europe President and AIPS Vice President during the 80th AIPS Congress in South Korea.
Although Micallef was the only candidate for the post of President he asked the members present at the General Meeting to confirm their trust in him through a secret vote which resulted in 30 votes in favour, 1 vote against and 1 abstention.
In his last address as outgoing President Charles Camenzuli emphasized on the need of continuity at the helm of the Malta Sports Journalists Association remarking that Micallef has now the responsibility to lead the newly elected executive committee to the 50 years anniversary celebrations to be held in 2020.
Sandro Micallef who has been involved in Sports media since 1996, thanked all the members for their overwhelming vote of confidence. He thanked the newly elected members on the committee and those who did not stand for re-election. Micallef expressed gratitude to his predecessor Charles Camenzuli who served for 14 years as President apart from occupying several other posts in the Malta Sports Journalists Association before he was appointed at the helm of the Association. The newly elected President thanked Camenzuli who will leave behind him a solid and professionally set up Association which can continue to develop for the benefit of Sports Media in Malta.
The Annual Meeting appointed the three previous Presidents of the Association as Lifetime Honorary Presidents namely Fr Hilary Tagliaferro, Henry Calleja and Charles Camenzuli.
The new executive committee of the Malta Sports Journalists Association Committee which has been elected for a four year term will be formed as follows:
President: Sandro Micallef
General Secretary: Mark Mizzi
Treasurer: Mark Muscat
Members: Clinton Buhagiar, Joanna Camilleri, Lorraine Cunningham, Stewart Said, Antvin Monseigneur and Stephen Azzopardi. Cristian Muscat will be co-opted after the first committee meeting.