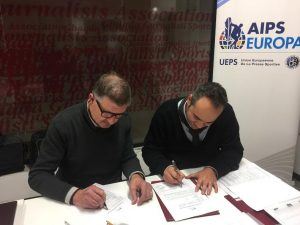 The Ghaqda Gurnalisti Sports (GHGS) has officially presented the candidature of its president Charles Camenzuli for the presidency of AIPS Europe.
There are 49 associations affiliated with AIPS Europe which is a member of AIPS, the world body.
Eventually, the candidature carries with it that of vice president of AIPS, the world body.
Camenzuli at present is the secretary general of AIPS Europe. He had been elected to this post at the 2010 Congress in Antalya, Turkey.
Earlier, since 1989, he had served the association in the Executive Committee – as a member as well as (for several years) as secretary general. Later he was appointed Life Honorary Secretary General of AIPS – the world body.
The election for the Executive Committee of AIPS Europe is to be held on 10 May during the 80th AIPS Congress in Seoul and Pyeongyang, South Korea.