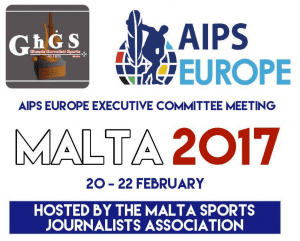 The attention of the sports media in Europe will be focused on the AIPS Europe Executive Committee meeting which will be held in Malta between the 20th and 22nd February 2017. All the organization has been entrusted to GħĠS (Malta Sports Journalists Association) after a decision that was taken during the AIPS congress held in Qatar last February.
AIPS Europe – Malta 2017 will be the last official meeting before the 80th AIPS congress to be staged in Seoul and Pyeongchang. During this event the election for AIPS Europe for the period  covering 2017-2021 will be held.
During AIPS Executive meetings some of the most renowned European journalists will be visting our country. These include Dr. Ioannis Daras (Greece), who is also the President of AIPS, Vice President Lev Rossoshik (Russia),  Treasurer Murat Agca (Turkey) as well as members Nastassja Marynina (Belarus), Gianfranco Coppola (Italy), Predrag Milinkovic (Serbia) Eldar Ismaylov (Azerbaijan) and Guenter Pfeistlinger (Awstrija). Charles Camenzuli the current President of the Malta Sports Journalists Association is also the General Secretary of AIPS Europe.
The main topic for this meeting which will be held in Malta is the official announcement of the candidates for the next election of the Executive Committee. The director of the first AIPS Europe Sport Media Summit to be held in Budapest next March, Gyorgy Szollosi from Hungary will be also present as well as Alan Gasperoni (San Marino) who is the media representative for the next edition of the European Small Nations Games in San Marino.
Consequently GĦĠS will be organizing a National Seminar for the Media which will be addressed by Nastassja Marynina, who will speak about the second edition of the 2019 European Games to be held in Minsk, Predrag Milinkovic, who is an expert of the Dakar  racing and Dr Ioannis Daras who will emphasize more about some problems that media and TV face regarding the rights for certain international events.
A Sport Photography exhibition with the participation of 12 photo reporters who are also members of the Malta Sports Journalists Association will be held. Details of this event will be given in the coming days.
The GħĠS has also launched the official logo to be used during this important event.