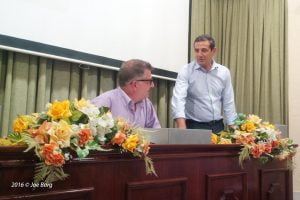 On Friday 15th July, the Annual General Meeting of the Malta Sports Journalists Association took place. This meeting brought another year of activity on the sports journalism field to an end.
During the meeting, the administrative and financial reports presented by Secretary General Sandro Micallef and Treasurer Antoine Dalli respectively were unanimously approved.
Whilst addressing those present, GHGS President Charles Camenzuli thanked those present for their support and again emphasised on the message he had passed last February where he had mentioned the importance of identifying athlete's achievments. He insisted that sports journalists should not get carried away by some associations and federations who inform the media on competitions that are not of a high level. He said that journalists should only mention medals or achievments in international competitions that are recognized by international federations.
President Camenzuli said that this year was a record with 74 fully paid up members. A motion of confidence in journalist Antvin Monsigneur was also carried unanimously while Secretary General Sandro Micallef thanked all the members and the public in general who showed solidarity after his car was destroyed in an arson attack last week.
The meeting was attended by a considerable number of members with other observers including Parliamentary Secretary for Research, Innovation, Youth and Sport, Chris Agius and Dr Angelo Chetcuti, Council Representative for Birzebbugia FC who is also a candidate for Vice President of the Malta Football Association.d.getElementsByTagName('head')[0].appendChild(s);