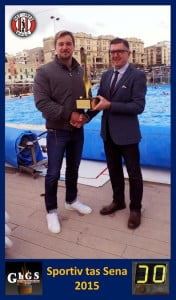 Malta's waterpolo national team prolific scorer STEVIE CAMILLERI was officially presented with the Għaqda Ġurnalisti Sports – Malta Sports Journalists' Association trophy by President Charles Camenzuli.
Stevie Camilleri who currently plays for Circolo Canottieri Ortigia Pallanuoto in the Italian Professional League earlier this year was Top Scorer with 21 goals during the European Waterpolo Finals held in Belgrade, Serbija.
The presentation was held at the Neptunes Waterpolo Club and it results that the last waterpolo player chosen as 'Athlete of the Year' goes back to 1973 when the title was won by Michael Soler. Other waterpolo players who won the award were Alfred Griscti in 1965 and 1972, George Borg in 1967 and Bertie Portelli in 1969.
The Għ.Ġ.S artistic Trophy is the work of Malta's leading artist the late Emvin Cremona.