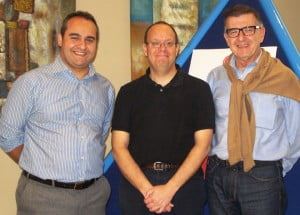 Sport media issues relative to AIPS Europe petition presentation at the European Union Parliament in October 2014 were discussed during a meeting held between officials of the Malta Sports Journalists Association and AIPS Europe Executive Committee member and President of the Sports Journalists Associaion of Belgium DAVID NAERT .
MSJA (Malta Sports Journalists Association) – President Charles Camenzuli and Secretary General Sandro Micallef briefed Mr. Naert on the current sport media issues in Malta, the development done within the MSJA in recent years as well as on the initiatives the MSJA will be implementing in its four-year sport media plan.
Secretary General Sandro Micallef made emphasis on the importance and role of MSJA in the international calendar of AIPS Europe in particular in the possibility for Malta to host and organize in the coming years one of the editions of AIPS Europe Executive Committee Meetings.
Mr. Naert offered his support for such initiatives as well as pleased that the MSJA was well aware of the work done within AIPS Europe. Mr. Naert was in Malta as one of the main lecturers during the Special Olympics Europe EuroAsia Regional Leadership Conference hosted by Special Olympics – Malta.