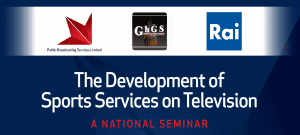 The Executive Committee of the Malta Sports Journalists Association (Ghaqda Gurnalisti Sports) and Public Broadcasting Services Ltd., is organising a National Seminar organised on the evenings of Monday 6th and Tuesday 7th October 2014 at Le Meridien, St Julians Hotel.
The theme of the seminar will be "The Development of Sport Service on Television" and will be addressed among others, by two renowned sport journalists working with RAI Sport.
The seminar will be open to all sports journalists/reporters/contributors and participation will be Free of charge to all GhGS members.
In a couple of days we will be holding a joint press conference with PBS Ltd to announce this event to the general public.
All those who will be attending on both days will be awarded with certificate of participation.
More details will be given out in the coming days. A registration form will soon be available on the Association's website
www.maltasportsjournalists.com.
Details of Seminar:
The Development of Sport Journalism on Television
Dates – 6th and 7th October 2014
Time – 17:00 – 20:00
Venue – Le Meridien, St Julian's
Attendance – Free
(The event is being sponsored by the Public Broadcasting Services Ltd and will be open to all local sports journalists with the intention to improve sport journalism/sport commentaries in Malta)