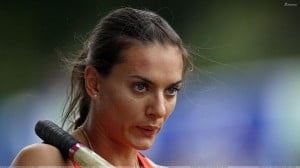 By Charles Camenzuli : AIPSEurope Secretary General
MALTA , December 31, 2013 – For the first time in his career, MO FARAH – one of the leading figures in the athletics world and for the third time in her carreer Russian pole vaulter YELENA ISINBAYEVA are the winners in the 2013 Edition of the European Sportsman and Sportswoman of the Year Awards .
It was the 31st annual poll conducted by the AIPS – EUROPE as the biggest continental section of AIPS and was established in 1977 at the AIPS Congress in Milano Marittima.
Since 2003, the annual poll was named the Frank Taylor Trophy in honour of the former president of both AIPS and UEPS.
MO FARAH, runner up in last year's edition got a total of 58 votes ahead of Rafael Nadal (tennis) with 49 votes, Formula1 champion Sebastian Vettel with 44 votes and France football player Franck Ribery with 42 votes
The women's award for the Evgen Bergant Trophy was won for the third time by Russian athlete YELENA ISINBAYEVA with 56 votes ahead of Slovenian Tina Maze with 49 votes followed by Russian swimmer Julia Efimova with 41 votes and Ruta Meilutyte of Lithuania with 36 votes. Isinbayeva won this title already in 2005 and 2008
_____________________________________________________________________
EUROPEAN SPORTSMEN and SPORTSWOMEN of the YEAR
MEN – Frank Taylor Trophy
2013 Mo Farah (Great Britain) athletics
2012 Novak Djokovic (Serbia) tennis
2011 Novak Djokovic (Serbia) tennis
2010 Sebastian Vettel (Germany) Formula 1 motor racing
2009 Roger Federer (Switzerland) tennis
2008 Rafael Nadal (Spain) tennis
2007 Roger Federer (Switzerland) tennis
2006 Roger Federer (Switzerland) tennis
2005 Roger Federer (Switzerland) tennis
2004 Roger Federer (Switzerland) tennis
2003 Michael Schumacher (Germany) Formula 1 motor racing
2002 Michael Schumacher (Germany) Formula 1 motor racing
2001 Michael Schumacher (Germany) Formula 1 motor racing
2000 Pieter van Hoogenband (Netherland) swimming
1999 Tomas Dvorak (Czech Republic) athletics
1998 Bjoern Daehlie (Norway) cross country skiing
1997 Wilson Kipketer (Denmark) athletics
1996 Alexander Popov (Russia) swimming
1995 Jonathan Edwards (Great Britain) athletics
1994 Michael Schumacher (Germany) Formula 1 motor racing
1993 Linford Christie (Great Britain) athletics
1992 Vitaly Scherbo (Commonwealth of the Independent States) gymnastics
1991 Sergey Bubka (Soviet Union) athletics
1990 Lothar Matthaeus (Germany) football
1989 Boris Becker (Germany) tennis
1988 Sergey Bubka (Soviet Union) athletics
1987 Stephen Roche (Ireland) cycling
1986 Boris Becker (Germany) tennis
1985 Sergey Bubka (Soviet Union) athletics
1984 Michel Platini (France) football
1983 Michael Gross (Germany) swimming
___________________________________________________________________
WOMEN – Evgen Bergant Trophy
2013 Yelena Isinbayeva (Russia) athletics
2012 Jessica Ennis (Great Britain) athletics
2011 Federica Pellegrini (Italy) swimming
2010 Blanka Vlasic (Croatia) athletics
2009 Blanka Vlasic (Croatia) athletics
2008 Yelena Isinbayeva (Russia) athletics
2007 Justine Henin (Belgium) tennis
2006 Justine Henin-Hardenne (Belgium) tennis
2005 Yelena Isinbayeva (Russia) athletics
2004 Kelly Holmes (Great Britain) athletics
2003 Justine Henin-Hardenne (Belgium) tennis
2002 Justine Henin-Hardenne (Belgium) tennis
2001 Svetlana Khorkina (Russia) gymnastics
2000 Inge de Bruijn (Netherland) swimming
1999 Gabriela Szabo (Romania) athletics
1998 Larissa Lazutina (Russia) cross-country skiing
1997 Martina Hingis (Switzerland) tennis
1996 Svetlana Masterkova (Russia) athletics
1995 Steffi Graf (Germany) tennis
1994 Manuela Di Centa (Italy) cross-country skiing
1993 Franziska van Almsick (Germany) swimming
1992 Krisztina Egerszegi (Hungary) swimming
1991 Monica Seles (Yugoslavia) tennis
1990 Katrin Krabbe (Germany) athletics
1989 Steffi Graf (Germany) tennis
1988 Kristin Otto (GDR) swimming
1987 Steffi Graf (Germany) tennis
1986 Heike Drechsler (GDR) athletics
1985 Marita Koch (GDR) athletics
1984 Marja-Liisa Kirvesniemi (Finland) cross-country skiing
1983 Jarmila Kratochvilova (Czechoslovakia) athletics
_________________________________________________________________