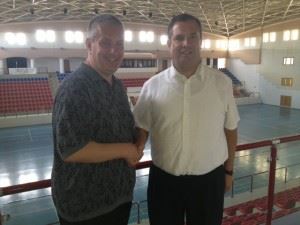 Parliamentary Secretary for Research, Innovation, Youth and Sport Stefan Buontempo met Malta's top snooker player Tony Drago.
During the meeting Dr Buontempo was given a brief account of Mr Drago's latest international participation in the World Snooker Tour.
Mr Drago now 48 spent some days in Malta for a short break before his next international commitments that will resume this Tuesday at the World Cup of Pool which will be held in London.
The "Tornado" as he is referred to among snooker fans, explained to Dr Buontempo that his international participation has now expanded also to the Pool game with the player accepting more invitations to tournaments for 9 and 10 Ball events.
Mr Drago reckoned the fact that since he has dropped out of the top 24 World rankings his chances of getting his games televised in top snooker events has decreased but nonetheless he still is on the go week in week out in major competitions.
Parliamentary Secretary Dr Stefan Buontempo thanked Mr Drago for his sterling contribution and success registered in the Snooker scenario.
Dr Buontempo said that Drago is an athlete that upcoming and promising athletes should look up to. "Turning professional like Tony at the age of 20 in the Snooker circle is not an easy task to do, I wish Tony the best of success for the future" commented Dr Buontempo.
He expressed his satisfaction on behalf of the Maltese sporting public for his achievements and for flying Malta's flag up high in top international events.