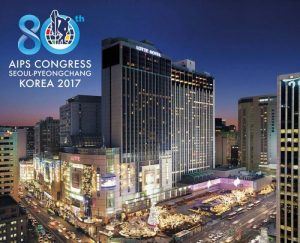 Dear AIPS friends,
This is Heedon Jung, the president of the Korea Sports Press Union (KSPU). On behalf of the KSPU, I am writing this letter to thank you for your participation at the 2017 AIPS Congress in South Korea.
Your participation at the Congress in Korea has made a great difference to bring the international sports journalists together. In fact, many of you who travelled long distances from all over the world served to remind me, just how important our work is to hold this Congress annually. This 80th Congress was presented to provide practical, step by step assistance for sports journalists all around the world to provide a better environment for the next generation to cover sports news. We have discussed how all journalists, regardless of their race, location or circumstance could achieve their full potential of covering sports reports within the context of transparency and investigative journalism. Indeed, I believe that the 80th Congress was a great success, and I hope all participants enjoyed it as much as I did.
Now that the Congress has successfully ended, I want to express my sincere appreciation to all. Thank you for the time and work you gave during the Congress as a member of the AIPS. I treasure your contributions at Korea, and I hope you have went away with useful and long-lasting memories from this country. Also, I would like to express my gratitude to our sponsors who greeted the attendees throughout the Congress. Thanks to the Ministry of Culture, Sports and Tourism; Korean Sports & Olympic Committee; Korea Sports Promotion Foundation; 2018 PyeongChang Olympic Committee; Gangwon Province; Kukkiwon, World Taekwondo Headquarter; Gangneung City; Gwangju 2019 FINA World Championship; and many more. Finally, I would like to thank members of our Organizing Committee who prepared for this Congress more than 6 months. I hereby express my sincere recognition to our team's dedication for delivering a successful Congress at Seoul and PyeongChang.
Nevertheless, none of this would be possible without the support from Mr. Gianni Merlo, the president of the AIPS, and his staffs. The AIPS was the backbone of the 80th Congress at South Korea, and they have provided significant supports throughout the times when we needed them the most. Thank you. Now, I pass on to the 2018 AIPS Congress at Antalya. I look forward to seeing you all.
"Let's make a better future through the AIPS Congress!"
HEE DON JUNG / President of KSPU