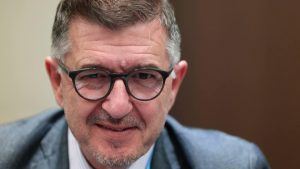 Long serving President of the Malta Sports Journalists Association Charles Camenzuli has officially stepped down from his position in his home country's Sport Media organisation.
His decision was no surprise as he has just been elected as AIPS Europe President and Vice President within the AIPS EC.
"Within the sport media there are always new challenges. As President of AIPS Europe the implementation of the ideals which we strive to transmit for the development of sport media in Europe are the major priority. For more than four decades I did my utmost to see that these ideals will be dealt with in the best possible manners. I am glad that the progress within the sport media in Malta has been constant and hopefully I will start to evaluate such progress from a different perspective – that of AIPS Europe President " said Charles Camenzuli.
Camenzuli has been an active member within the Executive Committee of the Malta Sports Journalists Association since 1974 occupying several roles within the Executive Committee introducing himself gradually first as an EC member, then appointed Treasurer, afterwards as General Secretary and then President where he held this role for the last fourteen years.
Mr Camenzuli a highly respected sports journalist in Malta has been awarded several sports journalism awards in his career and is still very active with his weekly sports programme Sports Extra and regular contributions in local printed media.
His sterling contribution to the Malta Sports Journalists Association will be nonetheless extended to the next generation of Maltese sports journalists as he has personally vouched his contribution in an open letter which was sent to General Secretary Sandro Micallef.
Camenzuli's professional leadership and excellent administration skills at the MSJA will be something that the new President to be elected on July 10th, 2017 will strive to follow.