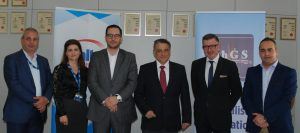 Maltco Lotteries, has deepened their involvement further in local sport through a one year sponsorship with Għaqda Ġurnalisti Sports, the Malta Sports Journalists, throughout 2017. Maltco Lotteries broadcast a number of sports through their U-BET platform and seek ways to add value to local sport at every level, consistent with Maltco Lotteries continuing involvement with local sport.
The Malta Sports Journalists serve Maltese sports fans across all national media including print, broadcast and online, as well as ensuring that the general public in Malta is kept abreast of developments in local sport. Malta Sports Journalists also have their own dedicated website and some of the generous support from Maltco Lotteries will be channeled towards the website to keep members of Malta Sports Journalists fully up-to-date with developments and events.
The agreement was signed by Charles Camenzuli, President of Malta Sports Journalists and Sandro Micallef, General Secretary and on behalf of Maltco Lotteries by CEO Vasilis Kasiotakis and Operations Director George T. Kakouras. Both organisations have been able to reach this landmark agreement based on several years of working closely together.
Maltco Lotteries has always believed and supported local sport. This is the 5th year that Maltco Lotteries have supported Għaqda Ġurnalisti Sports, either via event support or in this broader role as one of the main sponsors.