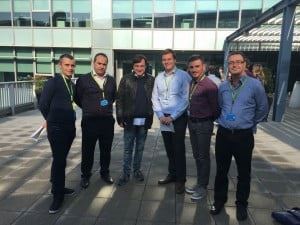 Five Malta Sports Journalists Association members have successfully undertaken a three day Job Shadowing experience in the Sky Sports 24 newsroom in Milan, Italy.
The opportunity was offered by the Executive Committee of the MSJA in an effort to expose more local sports journalists to the international scenario.
Commenting on this experience Sandro Micallef General Secretary of the MSJA who was leading the Maltese group said: "This was simply an unforgettable experience, we had the opportunity to meet in person Sky Sport Italia's familiar faces, colleagues with whom we exchanged experiences".
Micallef added: "The visit to Sky Sports' premises in Milan gave each of us the opportunity to sneak behind the scenes of the live transmissions of Sky Sport 24 news which is broadcast live everyday from 8am till 1am. We also had the opportunity to sit down and work along with Italian colleagues on the production of their main stream channel but also on the Sky Sport website
www.sport.sky.it
"
The MSJA members that attended the three day Job Shadowing experience were Nigel Misud, Matthew Mamo, Gianluca Lia and Robert Busuttil. The visit was coordinated by General Secretary Sandro Micallef who also accompanied the group in Milan.
Ħames ġurnalisti jattendu sessjoinijiet ta' Job Shadowing ma' Sky Sport Italia
Ħames ġurnalisti tal-Isport membri tal-Għaqda Ġurnalisti Sports għadhom kemm irritornaw minn esperjenza ta' tliet ijiem ta' Job Shadowing ma' Sky Sport Italia, b'ħidma speċifika fin-Newsroom ta' Sky Sport 24.
Din l-opportunita' kienet offruta mill-Kumitat Eżekuttiv tal-GħĠS fi sforz sabiex iktar ġurnalisti tal-isport lokali jkunu esposti għall-esperjenzi ma' entitajiet internazzjonali.
Meta kkumenta fuq din l-esperjenza Sandro Micallef Segretarju Ġenerali tal-Għaqda Ġurnalisti Sports li akkumpanja lill-ġurnalisti f'Milan qal hekk: "Din kienet sempliċiment esperejnza kbira fejn flimkien mal-kollegi kellna l-opportunita' li naraw u nsegwu dak li jiġri minn wara l-kwinti tat-trasmissjoni prinċipali jiġifieri Sky Sport 24 li jxandar live kuljum mit-8am sas-1am"
Hu żied jgħid: "Kellna l-opportunita' li naħdmu spalla ma' spalla ma' kollegi ġurnalisti taljani li jaħdmu kemm għaċ-Channel innifsu kif ukoll għall-website
www.sport.sky.it
. Kienet esperjenza li se tgħin lil kull wieħed minnha fil-futur" temm jgħid Micallef.
Il-ġurnalisti li attendew għall-Job Shadowing Sessions kienu Nigel Mifsud, Matthew Mamo, Robert Busuttil u Gianluca Lia li kienu akkumpajati f'Milan mis-Segretarju Ġenerali tal-GħĠS Sandro Micallef.