MEP Therese Comodini Cachia hosts Malta Sports Journalists Association delegation for a series of high level meetings in Brussels
The fight against match-fixing and doping, the dual career of athletes and sports people and good governance in sports where the main topics discussed during a series of meetings held in Brussels for which a delegation from the Malta Sports Journalists Association attended. The event in Brussels was hosted by MEP Therese Comodini Cachia, member of the Culture and Education Committee (CULT) which is also responsible for Sport and Media.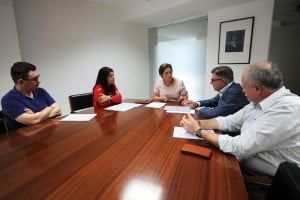 The priorities of the EU sport policy were discussed with Yves Le Lostecque, Head of Sports Unit at the European Commission and with the cabinet of Tibor Navracsics, the European Commissioner responsible for Sport.
Therese Comodini Cachia who is EPP Group rapporteur on implementation procedures for Erasmus+ thanked the journalists for their efforts in promoting key priorities of sports. "Whereas sport remains a national competence, a more concerted effort was needed in the fight against match- fixing, doping and violence in sports." Speaking on good governance in sports, the Maltese MEP stated that "Sport has a huge impact on children and youths and some sports persons are also role models, thus we need to ensure that sports is characterised by practices of good governance in the best interest of our society"
Match-fixing ruins sports and damages the betting industry
Reacting following the meetings Charles Camenzuli, President of the Maltese Association for Sports Journalists pointed out that the meetings showed that sports integrity and good governance were on top of the EU agenda. He thanked MEP Therese  Comodini Cachia for supporting the initiative, the first one of its sort for sport media representatives. He said that "The series of meetings also served to create more awareness on the role sport media can play vis-a- vis what the European Union has in stake for sport"
The journalists also had the opportunity to meet MEP Theodoros Zagorakis the former football international who was captain of the Greece national team that won UEFA Euro in 2004; MEP Bogdan Wenta, a former international handball player who emphasised on the importance of sports for all along with healthy lifestyles and MEP Santiago Fisas Ayxelà, the former Minister for Sports in Spain who is currently co-chair of the Sports Intergroup at the European Parliament. The dual career of athletes and doping was discussed with the European Elite Athletes Association. During a meeting with the European Gaming and Betting Association (EGBA) it was pointed out that match-fixing damages the betting industry which was an important market in Malta and thus the fight against match fixing was vital for both sports and the relevant industry.
The delegation included Charles Camenzuli, Paul Grech, Christopher Cassar and Joanna Camilleri.