Report Henry Brincat, Photos Christine Borg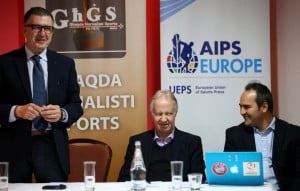 Keir Radnedge, chairman of the Football Commission of the International Sports Press Association (AIPS), was the main speaker at a seminar organised by the Ghaqda Gurnalisti Sports (Malta Sports Journalists Association) on Friday evening.
Radnedge spoke mainly about the problems which FIFA has been facing since it was founded on 21 May 1904 in Paris.
The first delegates were from Belgium, Denmark, France, the Netherlands, Spain, Sweden and Switzerland. The founders created the first FIFA statutes, unifying the laws of the game to make it fair and clear to all players setting the foundation for all future football development.
Radnedge said that over the years FIFA has expanded so much that now it has 209 members.
Among others, he explained that it was Jules Rimet, a Frenchman, who came out with the idea of organising a World  Cup which, in a way, contributed to the success of the game of football worldwide.
FIFA's revenue started increasing considerably under the reign of Brazilian president Joao Havelange and reached today's very impressive figures under the charge of Sepp Blatter who became one of Havelange's aides when FIFA had just 10 members as staff (today it boasts of a staff of around 400).
Radnedge went on to say that it was a real pity that FIFA's name was tarnished by several members who brought the world football body on the brink of collapse.
He said he was sure that the system used generated money (millions) not only for FIFA, but also for the pockets of corrupt members of the world football body.
Radnedge also spoke about the seven arrests made last May in Zurich, Switzerland, of whom five are still in detention, mostly under house arrest.
He said more arrests were likely as it is known that around US$150 million in bribes are being investigated.
He also referred to the election of Blatter as president earlier this year and added that the fact that Prince Ali managed to get 73 votes was an embarrassment for Blatter who had expected to be re-elected at the first count.
He also referred slightly to the suspension of UEFA president Michel Platini saying that his explanation with regard to the payment by FIFA for some consultancy work he had done for Blatter nine years earlier, lacked credibility.
Near the end of his speech, Radnedge acknowledged the fact that Blatter had also done a lot of good to football. One thing he was very proud of was the Ethics Committee. "Being one of his most successful creations, unfortunately for him, it came back to bite him," said Radnedge.